Dear Friend,
Would you help me use these songs as a tool that ministers deeply to hearts, wherever I speak and sing?  I've almost reached my goal! (Your gift is tax-deductible). An offering to the Lord has eternal rewards, for the sake of His Kingdom and Glory!
You are "partnering WITH God" on a specific mission when you give. We are so close to completion on this project. Whether it's the "widow's mite" or more, all of it will go to completing this project and God will honor giving that comes from your heart.
These are the projects that the Lord has given a very clear vision and appointment to accomplish.  They are at the center of the Heavenly Father's heart because they concern his children.   Laurie's ministry is a department of Artists in Christian Testimony, a licensed charity for over 40 years, with a board that endorses and commissions Laurie in her ministry. We are currently in need of Partners in God's Plan for these projects. Tax-deductible receipts are available for your giving. God Bless you and Thank you so much.
  Online Giving >     Canada Helps       American Giving
More about "Steady Ground"
It's already in the works! Laurie's been in the studio and she has the opportunity to have two great producers working with her. Producer Tim Schwindt has had one of his client's recording receive a Juno Award. He is arranging Background Vocals for Laurie's songs and providing vocal direction. Rick Balentine is a Grammy-nominated producer (Disney's "Ice Age") and has a long list of well known, Hollywood caliber artists and commercial contracts, recording in his studio. Just like Laurie's past recordings, both producers are grounded Christians. This enables a recording project that has consciously been made to be sensitive to the Lord's leading.
This particular recording will feature the song "Come To The Cross" written by Laurie, that will be a feature music video/short film, used for Evangelism and Outreach to bring the lost to Christ. Many are waiting for completion in order to translate the song and put the words on the video, for use in other countries. Due to the importance of this song and the video project, the CD is also vital to complete in order for the video to come to fruition.
In addition, 3 other songs will also become music videos, that will also be used during concerts as background imaging for further effective ministry during concerts and performances.
Some Christian Radio stations have already heard live performances of a few of the new songs and have specifically requested them for airplay on their stations when they are released from the studio! In addition, a "Sneak Preview" of some of the music is coming soon for you to hear it too. Sign up for Laurie's Newsletter to stay posted.
We're just $3500.00 away from our goal. Every amount, little or large, helps us to achieve the greater goal for the Gospel of Jesus Christ. 
Questions?  Please enquire with "All For 1 Group" 226-271-1821
To MAIL YOUR DONATION
or more information about the Charity
Click Here
The Global Outreach (reach) Project is a music video with an evangelism message. It's purpose and focus is to bring souls to salvation through Christ Jesus, and can be utilized as a tool to emphasize the Gospel message. The storyline of this music video is unique, following a woman's journey as she discovers Jesus' ministry. Heaven opens up and takes us back in time to show us what she witnessed. If the movie "Passion of the Christ" and his love, life, and sacrifice could be summed up in 5 minutes, then this is the project that will accomplish it. The music is in production and the song is called "Come To The Cross". It will be released on Laurie's new CD coming soon. Filming for the video will follow afterward.  The budget has been established for as little as $25,000 and could go as high as $50,000, trusting that God will supply exactly the amount necessary.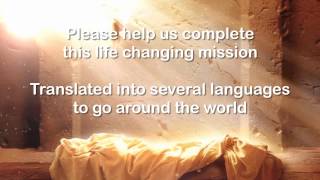 Online Giving with credit card  
To MAIL YOUR DONATION or more information about the Charity Click Here