New!
A Christmas Devotional
Discover the profound connection between two women in two different Biblical times. Where sin and redemption meet.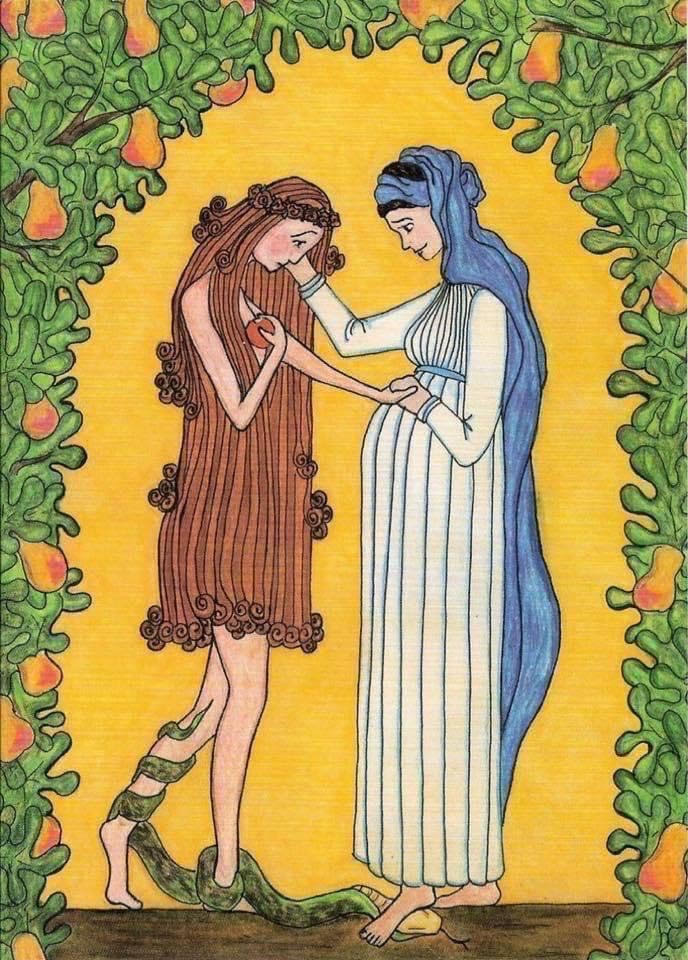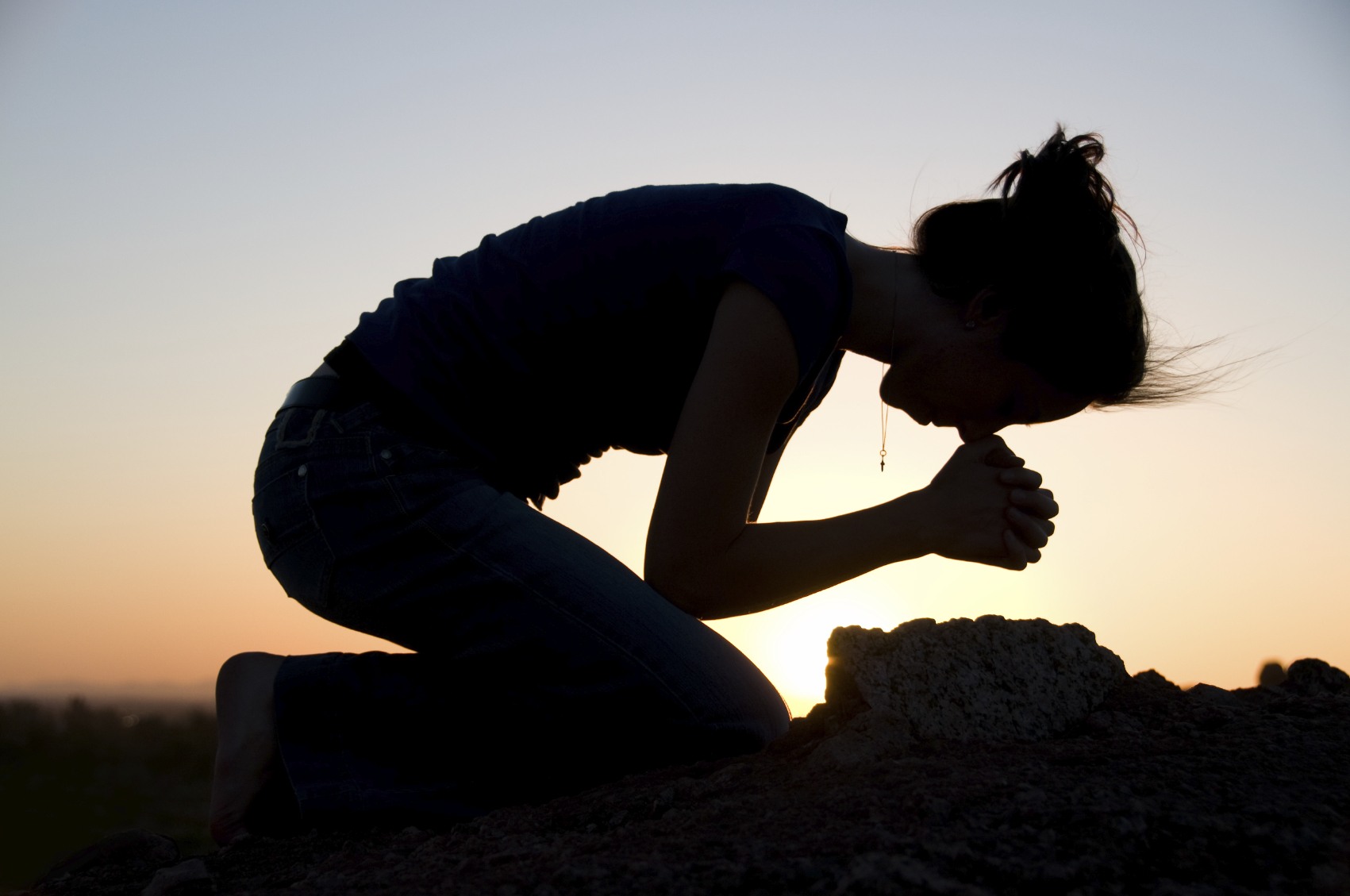 New!
10-27-22
Every once in a while, I have a conversation with someone who says, "I wish I could do what you're doing. I would love to travel and speak at churches, share my music or write a book"." The part that is painstaking is when I have to tell them that they can't . . . because they don't know the sacrifices and what culminated to bring me to this place. No two journeys are alike but God has a specific purpose and plan for each of us. The beautiful part is that we can relate to one another in so many ways. So, I packed some lessons learned in the Word of God from my journey, into a two-part devotional. I pray it brings insight and encouragement for your personal journey.
New!
10-26-22
To my surprise, all updates from June to October on the website have disappeared when there was a software update on my website. Well! No worries. We'll just spend some time catching up.
We're working on the LMV Ministry App for Apple and Android, Currently, the LMV Ministry App is ready for Android users. When you download the app, you get direct updates, devotionals, free downloads and Christian Resources.
Go to the Google Playstore and search "LMV ministry". Download it and check for updates.
Watch for more updates coming soon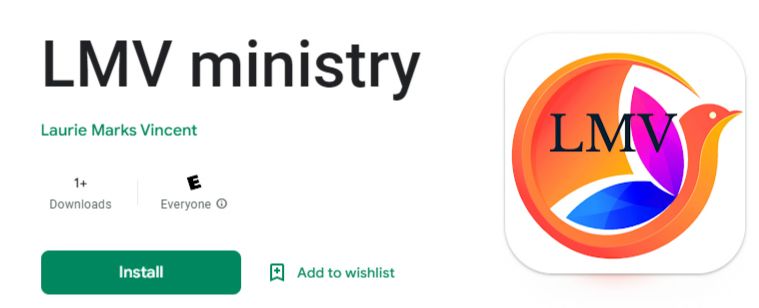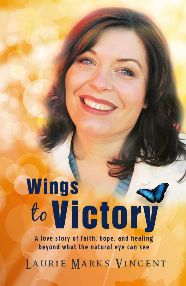 New!
08/22
When you write your first book there's so much to learn. All Laurie knew is that she had to write the story on paper. The original has been revised with several new chapters, more detail and insight that completes a full picture of the journey.
Laurie unlocks faith principles that were like supernatural mysteries and walks the reader through some valuable lessons that led up to the pivoting moment when she received a miraculous healing from the Lord, free from Fibromyalgia, Chronic Fatigue and Depression..
New!
08-18-22
On August 13, (2022) we filmed the scenes for the Passion Project. Justin Baker plays the role of Jesus. Dena Baker (wife-pictured left) also is involved in the video as well. Her make-up skills for the crucifixion scene were also amazing. Several others joined the cast, and filming lasted from 1 pm to 8 pm that day. The day was perfect for filming and editing now begins. The short-film/music video features a new song, yet unreleased, written and performed by Laurie entitled, "Come to the Cross". The production is expected to eventually be translated into a number of different languages and used as an evangelism tool to share the Gospel. A release date will be announced late 2022.. closer to the completion of the project.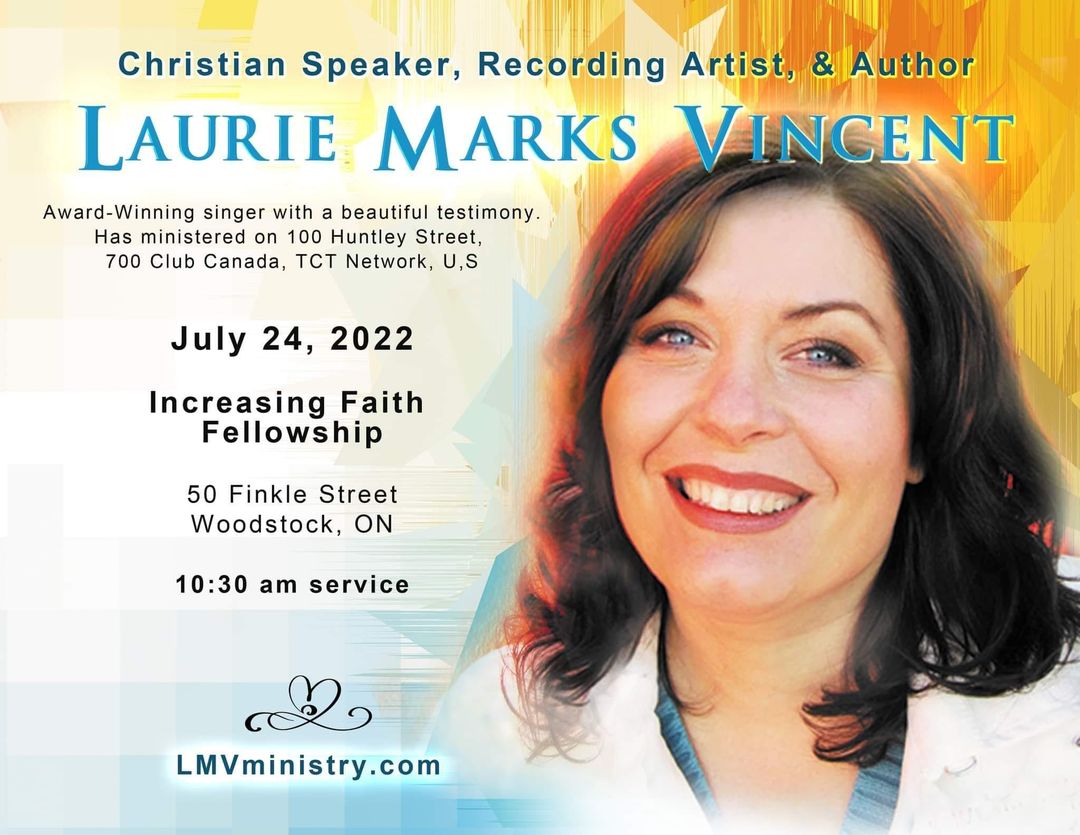 Increasing Faith Fellowship
07-24-22
Laurie will be ministering in the Sunday Morning Service at Increasing Faith Fellowship, She is the guest speaker and music for the service. A video of her message will be posted later.
50 Finkle Street, Woodstock Ontario Canada.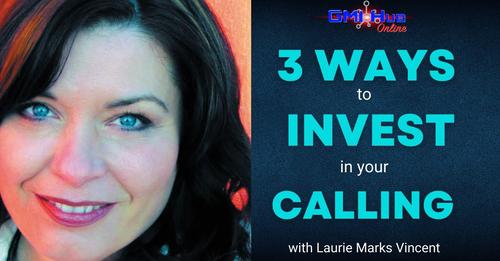 New!
07-11-22
Laurie was a guest on GMI hub (Youtube). She gave a profound message about 3 ways to invest in your calling. Especially for those who are called to minister through the arts, however, no matter how God has called you to serve, these are three principles that you can't ignore.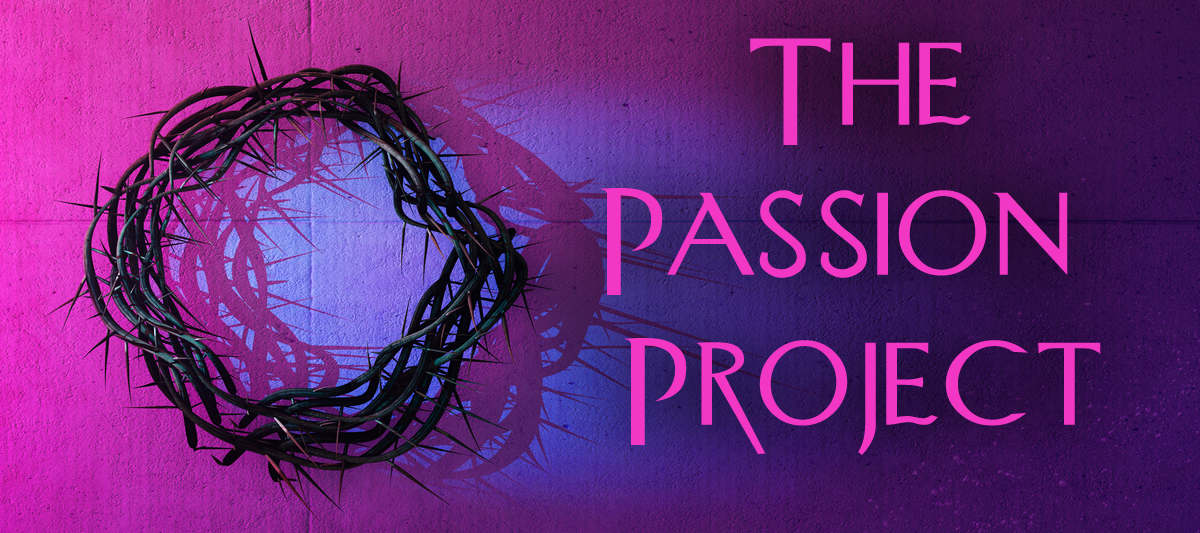 New!
06-28-22
We are in the beginning stages to prepare for the filming of The Passion Project.
This is the 7-week mark since Laurie's surgery and recovery has been consistent, and better every day. She is still in physiotherapy but progressing so quickly, that she is ahead of the average recovery schedule. We praise God for quick healing and recovery.
Her show Grace Talk was put on hold during this season of recovery but editing and production will begin soon so that the first season will be airing in August 2022.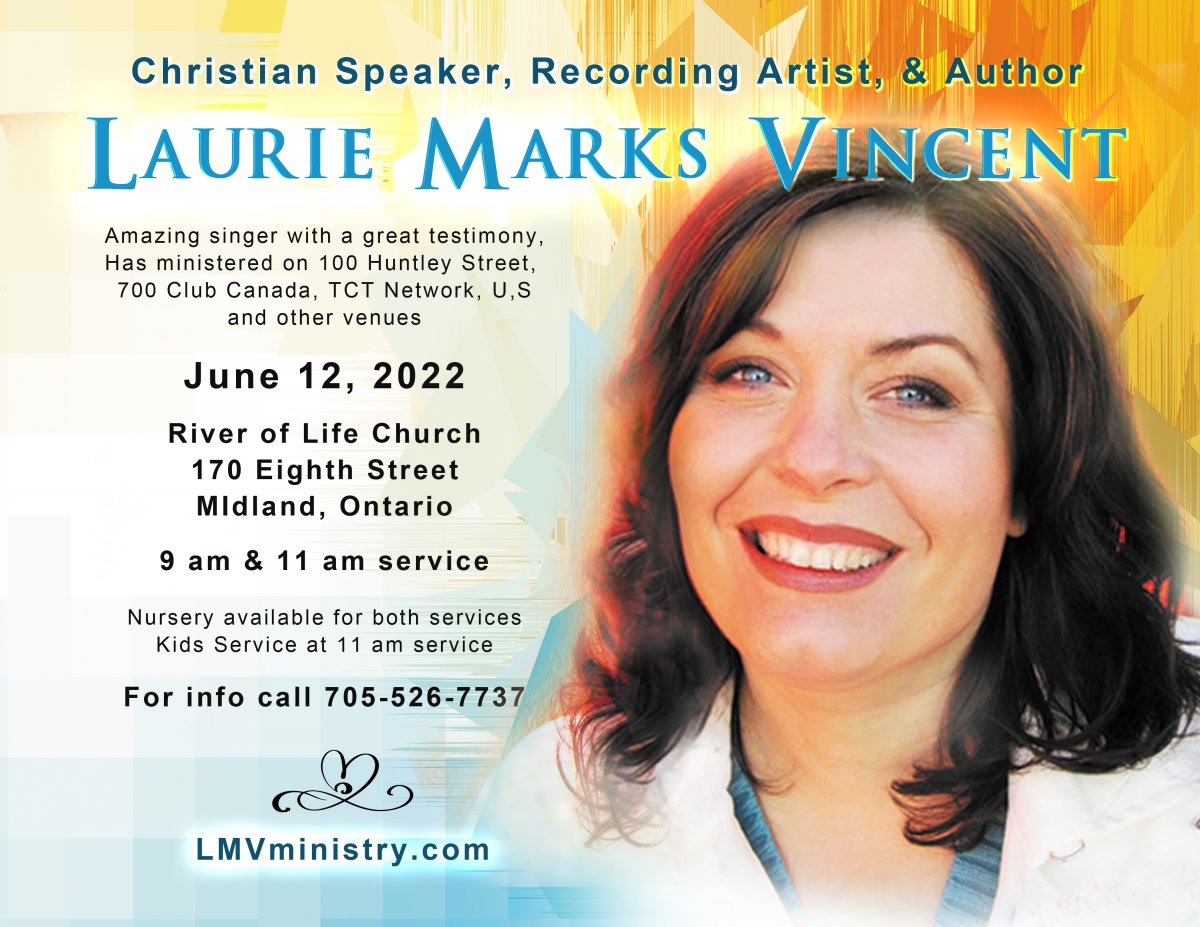 NEW!
River of Life Church
Laurie will be ministering at the 9 am and 11 am service, at River of Life Church, June 12, 2022 in Midland Ontario, Canada
New!
June 12/22 - Booked for a live appearance at River of Life Church, Midland Ontario

Spring 2020- Pre-Covid Newletter
In November 2019, I was invited to minister at a conference in Texas. Sharing music and three messages during the conference, there was a very strong presence of the Holy Spirit from the beginning. Starting with a message about seeking the presence of the Holy Spirit in our lives, it was clear throughout the entire conference that his presence became more intense. Snippets of the messages will be posted online later. We will be sure to let you know. We also thoroughly enjoyed their heart to worship the Lord, great Texas food and warm hospitality.
Ronald Kezimbira Kyobe, Director of The Ushindi Africa Children's Choir and Foundation was in contact with the ministry, asking permission to record Laurie's song, Healing Waters Flow. She was expected to join them on tour in 2020. The tour has been postponed until the pandemic is over, but the recording is expected to go forward. Please keep them in prayer as they press forward with God's calling for the Ushindi Africa Children's Choir.
The Blessing Fund ( a department of this ministry) has been able to help a number of people that have had special needs in difficult circumstances. Although we don't talk about it much, this is a division of the ministry that we have been doing for more than 2 years now. We have an opportunity to reach individuals and minister the love of Jesus. It's been such a blessing to be a blessing, and we are so grateful for our partners with The Blessing Fund.
Among a number of needs, we were able to help an elderly lady afford the proper shoes she needed. Her ankles had collapsed and she could no longer walk any more than a few steps with pain. I went with her to her appointment when her specially fitted pair of custom orthotics were ready for her. The first time she slipped her feet into her new Summer sandals, she stood up and began to cry with joy and relief.
She said it was the first time she hadn't felt any pain standing up in such a long time. You can see the difference between the two pictures.
The first one shows her ankles leaning inward and the front of her foot laying flat to the outside. The second picture shows her foot aligned with her ankle.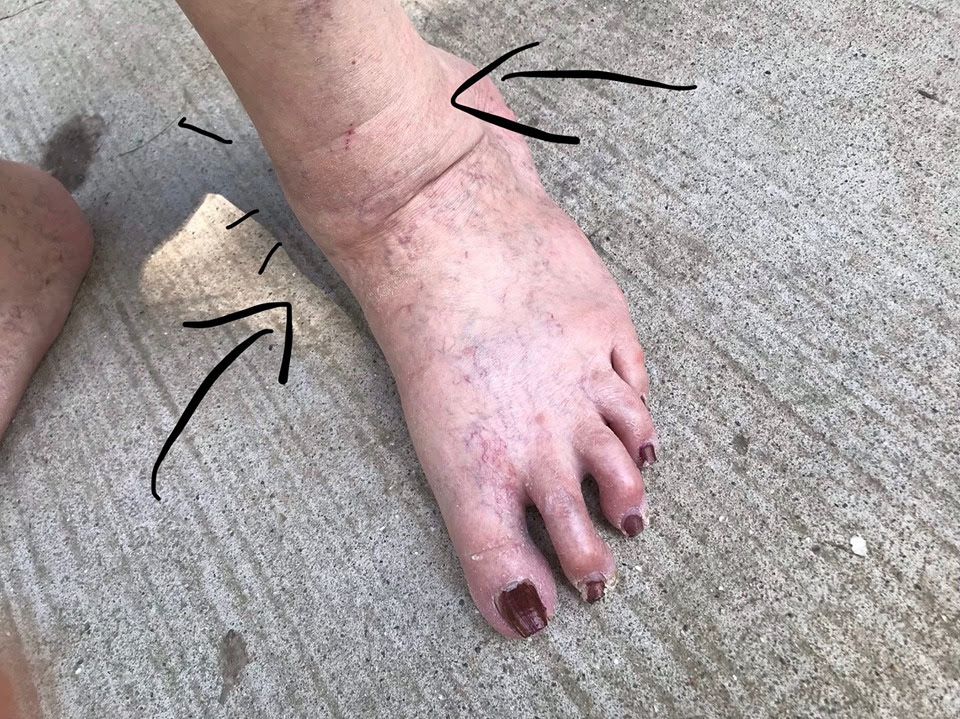 Before
This shows her ankles leaning inward and the front of her foot laying flat to the outside, without wearing custom support orthotics made especially for her needs.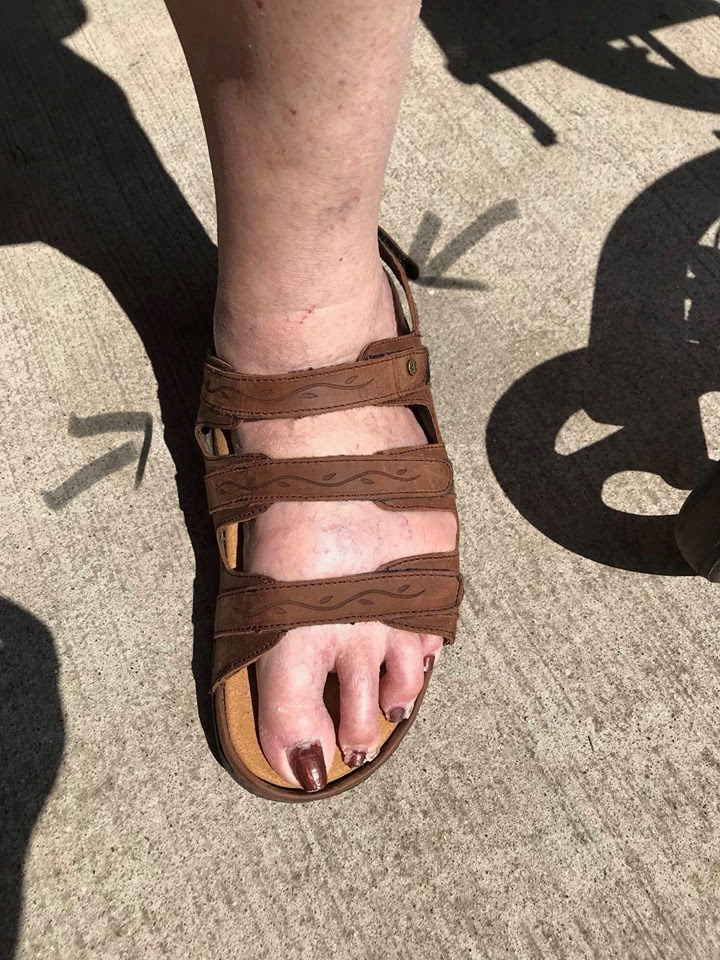 After
This shows how the custom designed orthotics align her ankle and and foot in the proper posture.
The Blessing Fund
Many of the crisis situations that we encounter are urgent needs and require having funds readily available. We have a very small monthly reserve that we can work with and when we don't have it, we do try to raise funds quickly, however, this makes us limited to what we can do efficiently. This is a "home-mission" cause. God has done so much with so little invested. Please help us with a small monthly contribution. Y
our gift is tax-deductible. Visit
The Blessing Fund
Website to discover more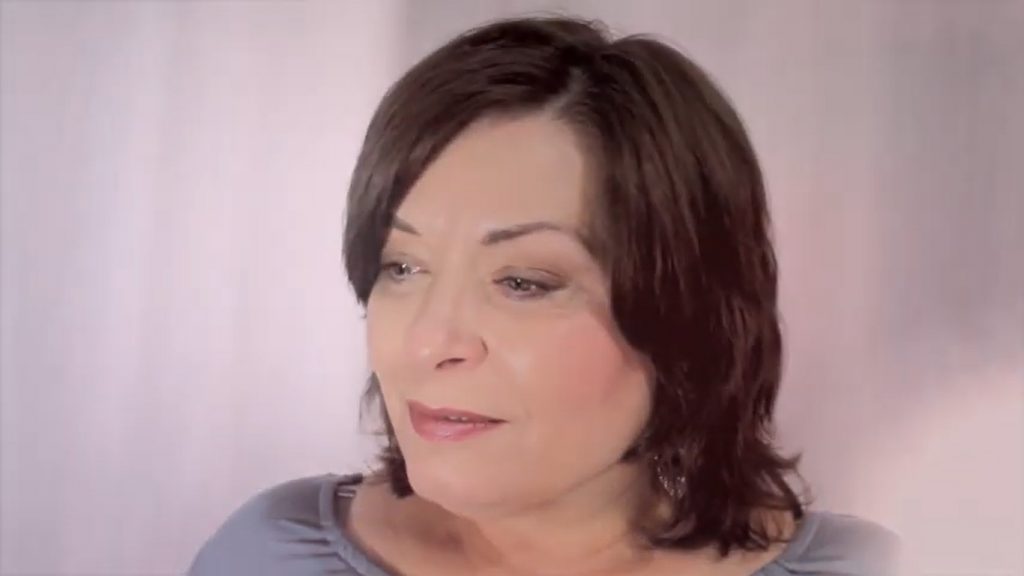 Thinking of You
Since social distancing started, of course, it has brought all public ministry to a complete stop. We don't know when we'll be free to book ministry engagements again, but we will be planning some online ministry events in the coming weeks. You'll be receiving notices about these online events soon.
We have also created some videos to minister to your soul during this time. It's a series of new videos called, Songs from the Sanctuary. I pray that they will be a blessing to you. More videos for this series will be released soon .
Watch Videos

.All Proceeds 100% go to Ministry Projects to further the Gospel and continue ministering to hearts through music and media.
Your gifts are tax-deductible